There are times I spend so much time looking for something to watch on Netflix that I could of watched an entire movie by time I've browsed through almost every section. It's hard for me to really choose something to watch, sometimes I literally close my eyes and just pick something. That's what I did with this show...
and now it's costing me sleep because I am obsessed and completely hooked. I'll be watching this into the wee hours of the morning or any free moment I have. I can't stop! I'm up to season 2 episode 15 now in a little over 2 weeks. Yeah, that's a lot of TV.
I've seen previews for this show and blew it off. Sure, it's over-dramatic, obviously very fictionalized, cliche, and meant for teenage girls, but I love it!
Soon, I'll be left with this problem...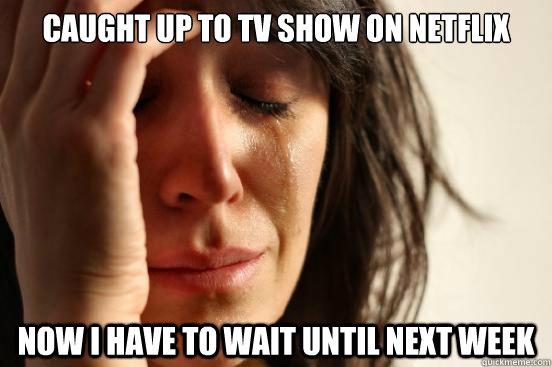 This will be disappointing, I really love watching episodes one after the other on Netflix. All the cliffhangers get picked up in minutes rather than a whole week...exactly first world problem. I'll live though!
Anyone else like this show? NO SPOILERS! What other shows can you recommend that are similar to this?